Hello Kinderland! I am Michelle from Apples and ABC's and I am so excited to share my first post with you!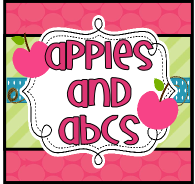 Valentine's Day is just around the corner, and I am always looking for different manipulatives to add to my language arts and math bins. Each month I do some sort of "letter hunt" activity where the students look for letters and write the ones they find. Let me show you what I mean...
My FAVORITE place to shop for manipulatives is the dollar section at Target. They always have seasonal goodies for the best price! I found these puffy heart stickers last week...
I took an empty paint cup and filled it with the heart stickers. I added some small blocks with letters printed on the sides. The students can read the letters though the clear plastic and write them down.
The students used a white board to record the letters that they saw thorough the cup. You don't have to use blocks, you can write letters on card stock or anything that can withstand a "gentle" kinder shake. :) I also switch it up write numbers or sight words on the blocks too! The options are endless!
I hope you enjoyed this short post, and I look forward to sharing more ideas soon!
~Michelle